Writtle Junior School: 'One last try' to find lost capsule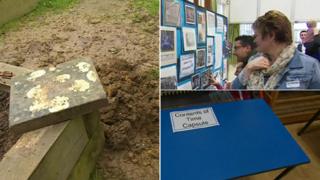 A school is to try again to find a time capsule buried in its grounds 25 years ago after failed attempts to locate it.
The plastic ice-cream tub was originally placed in the garden of Writtle Junior School, near Chelmsford, Essex, in 1988.
But a search for it earlier this month was called off after no-one was able to remember where it had been buried.
Deputy head teacher Sue Evans said several ex-pupils had since contacted the school with information.
The school buried the time capsule to mark its 25th anniversary, intending for it to be found and opened on its 50th anniversary.
Several holes were dug and metal detectorists called in to help but still the time capsule could not be found,
'Might have moved'
The search was then stopped through fears it may destroy the school's garden.
"We've had quite a few past pupils email us with suggestions about where it is," said Mrs Evans.
"We've had lots of different suggestions. Most people agreed it was in the garden but some said it was under a tree that's no longer there.
"Some said it might have been moved when the area was landscaped.
"We're going to triangulate all this information and after half-term we'll have one last try along one wall."
The school has buried a second time capsule to mark its 50th anniversary but has been careful to keep detailed records of its location.