Essex County Council bus stop shift 'barmiest idea'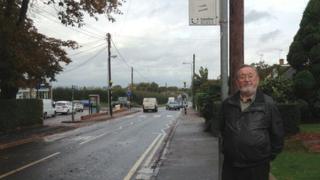 A £70,000 bid to move a bus stop half a mile (800m) away from a row of shops has been labelled "barmy".
The Rochford Local Highways Panel says moving the bus stop in Hullbridge Road Rayleigh will ease traffic congestion.
The proposal is to move it down the road beyond Raweth Lane - one of the roads the panel says gets congested due to the bus stop.
But Ron Oatham, councillor for the area, says the current bus stop site is "very convenient" because of the shops.
Mr Oatham, a Liberal Democrat member on Rochford District Council. said many people living near the bus stop, and who used the bus services there, were elderly.
"I think it is the barmiest idea I've ever heard of," he said.
"It seems to be a waste of money, an inconvenience to passengers and it isn't going to make much difference to the traffic at this junction."
A spokesman for Essex County Council, which will decide the matter, said: "This current bus stop location along this busy route causes traffic to back up along Hullbridge Road and Rawreth Lane.
"By moving the bus stop to a new location, prior to Rawreth Lane, it is hoped to reduce traffic congestion considerably.
"As part of the bus stop relocation the ground will need resurfacing, the kerb raised and a bus shelter introduced. The funding for the scheme also allows for any contingency costs which may be required due to unforeseen utility works."