Chelsea fan's 20-minute Mourinho encounter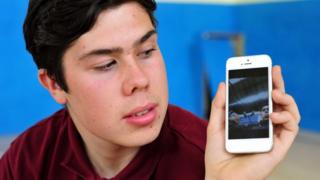 A teenage Chelsea fan has told of the "crazy" moment he ended up sitting next to a banished Jose Mourinho during a match against Cardiff.
Mourinho was ordered from the technical area by referee Anthony Taylor after protesting about apparent time-wasting.
The Portuguese manager went up into the stands and sat down next to Sean Buxton, from Chelmsford in Essex.
The 17-year-old said: "It was so intimidating, something I've never ever experienced before, it was crazy."
Sean, a sport student at Writtle College, said he was a big fan of Mourinho but did not know what to say to the manager when he spent 20 minutes sitting next to him.
"I moved up as he walked over and he sat next to me.
"I took a picture of me and him. He didn't know I had taken the photo. He seemed a bit frustrated at the time.
"But when we went 3-1 up he was happy."
Sean, who paid £15.50 for his seat for the game, said he was delighted at the experience.
After the match on Saturday at Stamford Bridge, Chelsea assistant first-team coach Steve Holland said: "Jose was furious on the touchlines."