Bunting and Sons in administration after Stour Valley centre bid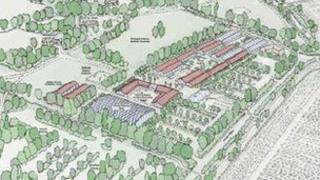 A decade-long planning wrangle for a countryside visitor attraction has sent the firm behind the proposals into administration, it is claimed.
The nearly 200-year-old business Bunting and Sons wanted to create the Stour Valley Visitor Centre at the 113-acre Horkesley Park near Colchester.
But earlier this year, Colchester Borough Council rejected the proposals.
Stephen Bunting, partner, said those involved in the business, were "deeply saddened by this turn of events".
But he said the situation had "become unavoidable due to the protracted nature of the ongoing planning application for the creation of the Stour Valley Visitor Centre at Horkesley Park".
"The partners are committed to working with the bank's administrators in dealing with this situation," said Mr Bunting. "All parties involved remain confident of a positive outcome and swift resolution."
Richard Hawes and Dominic Wong of Deloitte, the business advisory firm, were appointed joint administrators of Bunting & Sons on 16 October 2013.
Bunting and Sons own a number of businesses, land and property in the rural community in and around Colchester including Westwood Park.
Richard Hawes, of Deloitte, the administrators, said the business was "an important part of the rural landscape, but had been under financial pressure for a period of time".