Basildon Hospital spends £3m to cover nurse shortages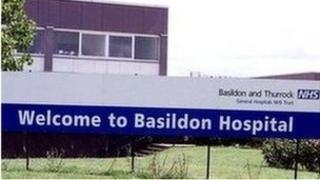 More than £3m has been spent filling nursing gaps in the past two years at a struggling hospital, it has emerged.
Basildon Hospital was placed in special measures in July following the Keogh Review into hospitals with unusually high death rates.
Understaffing has been blamed for some of the failures at the Essex-based hospital.
As part of its 'turnaround plan', 200 extra nurses have been recruited to bolster the 4,000-strong workforce.
BBC Look East's Inside Out spent a day inside the hospital to find out more about the hospital's improvement plans.
Most of the nursing vacancies have been filled with nurses from the UK.
'Motivation and morale'
One of them is nurse Claire Marie Battersby, who said she had no hesitation in joining Basildon, despite its poor reputation.
"My personal opinion (is that) because of the 'heat' on the hospital, standards are at their highest and moving forward it will be a really good start with the hospital."
Basildon has also reorganised its Accident and Emergency (A&E) and paediatrics departments, while electronic screens have been installed in wards to give instant information about patients.
Director of nursing Diane Sakar believes the hospital is at a turning point and says the extra nurses will help.
"It will ensure that we have good continuity of patient care," she said. "It will ensure that nursing staff have new staff to do the job they are employed to do.
"It will improve the motivation and morale of the staff.
"I am most proud of how the staff have learned from the criticism. Staff have really listened and have improved. We will learn lots of lessons."
Basildon Hospital is also preparing to open an additional 28 beds in a temporary building to cope with an expected winter rush. As well as 200 extra nurses, an additional 50 staff have also been employed.
Care Quality Commission inspectors recently visited the hospital and their findings should be published soon.
Look East's Inside Out will be broadcast on 21 October on BBC One from 19:30 BST.