Councillor's migrant 'Machete' Twitter post investigated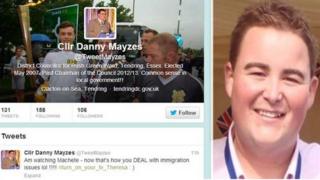 A councillor's tweet which said a violent revenge film showed how "immigration issues" should be tackled is being investigated as a potential hate crime, police have said.
Danny Mayzes, 25, became the youngest chairman of Tendring District Council in 2012 but stood down in May.
Earlier this month, he tweeted that the film, Machete, showed "how you DEAL with immigration issues lol".
Essex Police said they were looking into "an allegation of a hate crime".
Mr Mayzes has yet to comment on the allegation.
A police spokesman said the investigation followed "a tweet made by a Clacton councillor relating to views on immigration".
He added that officers were "currently ascertaining whether any criminal offence has been committed".
Peter Halliday, leader at the Conservative-controlled council, said the Conservative group had suspended Mr Mayzes.
He added that "given the involvement of the police, it would be inappropriate to comment any further at this stage".