Essex Fire strike: Grab a kebab plea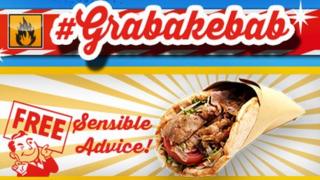 People have been urged to "grab a kebab" rather than cook during a firefighters' strike.
Essex Fire and Rescue issued the unusual plea ahead of industrial action planned for Saturday night.
The service said 56% of fires in the county start in kitchens and it hopes less cooking will mean fewer fires.
Divisional Officer Neil Fenwick said: "Using a takeaway as a fire safety device might seem unusual but there is a serious message here."
He added: "More house fires start in the kitchen than any other room, so by ordering a takeaway during the Fire Brigades Union strike on Saturday people can make a real difference to keeping the county incident free.
"This a quirky way of us making sure that as many people as possible hear our fire safety message ahead of the strike.
"It's good for local businesses and it will help to keep people safe."
The strike is planned to take place between 18:30 BST and 23:00.