Ex-Salvation Army worker Janet Gilson 'unlawfully killed'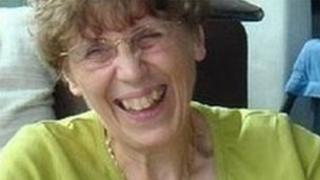 A former Salvation Army worker whose body was found hidden in a sofa was "unlawfully killed", an inquest heard.
Janet Gilson, 64, died in March 2011 and was found in her niece's Hong Kong apartment. She had been strangled.
Earlier this year Ahmed Fareed, the ex-husband of Ms Gilson's niece, was jailed for life for her murder.
At an inquest in Chelmsford, Essex Assistant Coroner Yvonne Blake said the death of Ms Gilson, from Leigh-on-Sea, was "very sad" as she had just retired.
Fareed's trial in Hong Kong heard he had strangled Ms Gilson with a rope and stuffed a towel into her mouth. Four of her ribs had been broken.
Ms Gilson had been missing for three days before she was discovered.
The inquest on Tuesday heard Ms Gilson's body had been "forced" into the sofa.
Ian Payne, who worked with Ms Gilson for 40 years, said she was "very strong", with a "rare capacity" for "loving the unlovable" and a "great sense of fun".