Admiral Nelson and Florence Nightingale letters set for Colchester auction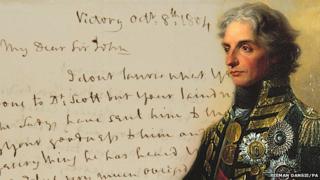 A collection of letters written by historic figures, including Admiral Horatio Nelson, Florence Nightingale and Charles Dickens, is expected to sell for thousands at auction in Essex.
The 75-strong lot including cards and autographs was amassed by a Billericay collector over 30 years.
The letter by Nelson in 1804, written while on HMS Victory, was for Sir John Acton, prime minister of Naples.
It is expected to sell for between £4,000 and £6,000.
Angie Bowles, an expert in ephemera at auctioneers Reeman Dansie, said: "Nelson was such a hero and his memorabilia continues to command a high value at auction.
"The letter is signed Nelson & Bronte, which refers to the fact he was made Duke of Bronte by King Ferdinand of Sicily."
The letter also mentions Dr Alexander John Scott, a friend of the Norfolk-born naval hero who was to attend the admiral's fatal wounds at the Battle of Trafalgar.
The private collection has been released for auction in Colchester by the family of the late Captain A.S. Court, who spent much of his life in Romford.
A captain in the former Essex Regiment, he was a "collector by nature" said his family.
Other items in the auction include letters signed by English poet William Wordsworth; Napoleon; Hawley Harvey Crippen of Dr Crippen notoriety and Britain's wartime leader Sir Winston Churchill.
The entire collection is expected to fetch up to £15,000, according to experts.