Colchester Zoo becomes home to spotted hyena whelp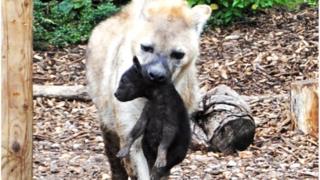 The UK's only pair of laughing hyenas have become parents.
Although there are between 27,000 and 47,000 laughing - or spotted - hyenas in the world, the only zoo in the UK to have them is in Colchester.
Kalabi, the female hyena, had a 30-hour labour before giving birth to a single whelp.
Colchester Zoo's curator Sarah Forsyth said: "We are still unsure of the sex of the whelp but will hopefully know within the next few weeks."