Tendring District Council in migrant 'Machete' Twitter probe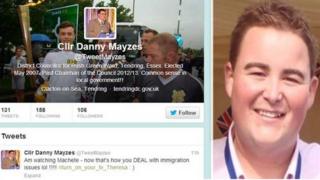 A councillor who tweeted to say a violent revenge film showed how "immigration issues" should be tackled faces disciplinary action.
Danny Mayzes became Tendring District Council's youngest chairman last year. He stood down from the role in May.
He said he was watching a film called Machete and tweeted "now that's how you DEAL with immigration issues lol".
Mr Mayzes, 25, from Clacton in Essex, has yet to comment on the matter. His Twitter account has since been deleted.
Ian Davidson, the Conservative-led council's chief executive, said: "The matter of the tweet posted by Danny Mayzes has been brought to our attention.
"I have had a meeting with councillor Mayzes today to discuss his comments and this matter is currently under review."
Peter Halliday, the council leader, said: "I, like many local residents and Conservative Party members, am both surprised and disappointed by comments that appeared on one of my councillor's Twitter feed.
"A meeting of the Tendring Conservatives has been called amid concerns over Mr Mayzes' inappropriate tweet.
"I, as leader of the Conservative Group on Tendring District Council, will be seeking disciplinary action which I will look to be sanctioned in accordance with our group rules.
"The meeting is set to take place next week and as group leader I will make public the group's chosen course of action."