Thurrock Thames Gateway Corporation spent on jewellery and pottery skills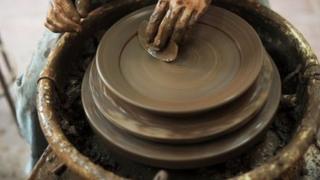 A defunct development quango spent money on pottery training for staff facing redundancy, it has emerged.
The spending at the former Thurrock Thames Gateway Development Corporation was highlighted in a government report.
The report also says "irregular" payoffs worth £117,000 were shared by two directors.
But former chief executive Niall Lindsay and director of resources Sean O'Donnell said the payments were appropriate.
The report for the Department for Communities and Local Government (DCLG) revealed that the staff training, which also included patchwork and jewellery skills, was arranged because workers faced redundancy.
The investigation also found money had been spent on software and associated training for personal use by a senior executive of the closing body.
In a statement, the local government minister Brandon Lewis said: "Expenditure on training and the purchase of software incurred in the period from April 2012 to closure was not in accordance with the corporation's policy and was novel and contentious."
"Ministers regard this as totally unacceptable. The department is now supporting Thurrock Borough Council in legal action to recover funds from the former chief executive and director of resources to protect taxpayers' interests."
Thurrock Council, which took on the development corporation's responsibilities when it closed, has started legal proceedings against the two directors for the return of the money.
A joint statement released previously to the BBC by Mr Lindsay and Mr O'Donnell said reports to those overseeing the closure of the corporation "covered all aspects of the closure arrangements, including the timing of redundancy notices".
"Between March and 4 October no objections or dissenting views were expressed at any of the board meetings from any party," the statement said.