Serco prison van halted by Essex Police over tyre tread depth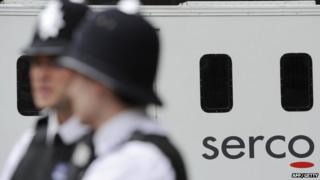 An investigation is under way after it emerged a prison van collecting suspects from a police station was found to have a defective tyre.
The van, operated by Serco, was on its way to Colchester's magistrates court on Monday when officers inspected it.
Serco said one of the tyres had insufficient tread depth but the van was allowed to continue to court.
Once it reached the court, which was less than half a mile away (800m), it was swapped with another vehicle.
A spokesperson for Serco said the van was at the police station to collect people from its cells and take them to the nearby court.
She said: "The vehicle was deemed to be safe to be driven to the magistrates' court where it was swiftly replaced by another vehicle.
"Serco undertakes routine checks on all prison custody vehicles on a daily basis including six-weekly independent inspections.
"The tyre has been retained to conduct an internal investigation into its current condition."
A police spokesman confirmed the van was not impounded.
The tyre problem came just weeks after another Serco court transport van caught fire near Chelmsford.