Harlow fire deaths: Dr Abdul Shakoor asks 'why was my family taken?'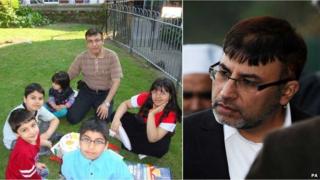 A doctor whose family was killed in a suspected arson attack a year ago has spoken of the "sweet memories" he has of his youngest child.
Only Dr Abdul Shakoor survived the fire at the family home in Harlow last October and still suffered flashbacks.
His wife Dr Sabah Usmani and his children, Hira, 12, Sohaib, 11, Muneeb, nine, Rayyan, six, and three-year-old Maheen, died as a result of the fire.
Dr Shakoor appealed for answers to their deaths to bring closure.
He told how his daughter Maheen would have turned five this month.
"I have really sweet memories of her," said Dr Shakoor. "She was a beloved daughter who brought a smile to everyone's face.
"So there are very good, sweet memories in our heart and they are everlasting there, but we are missing a lot."
He said memories were also still fresh in his mind of the tragic night even after a year and he was still suffering flashbacks.
"It has been tough year but my beliefs and faith have given me great solace."
Police, who are still investigating the fire, believe it started when burglars targeted the house.
'Amazing support'
A car was found burnt out nearby and that may be linked.
Dr Shakoor said: "All of the community would like to know answers why my innocent family was taken away in this way.
"As a great nation we want to make sure that the peace should prevail so the mums and the kids feel safe on the streets and in their homes."
He said the support of the local community and the people at the hospital where he worked was really amazing and they had helped him stand firm.
"The lives of all my family, friends and the community had been changed by the tragedy and we are all waiting anxiously to see the killers brought to justice.
"I hope and believe that someone will come forward and help us all to come to a closure.
"We don't want this to happen again and another family to go through what I did," he told BBC Look East.
Police are still investigating and want to trace a white man in his late teens to early 20s who was seen on a bicycle near the scene of the crime.
They also want to find the family's black Toshiba Satellite laptop computer which was taken from the home.