Dale Farm group refused change of use for Laindon pasture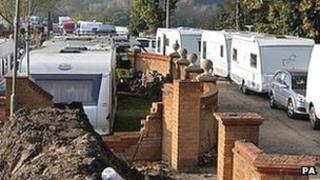 Former residents of the illegal Dale Farm travellers' site have failed in their bid to turn a rough pasture site in Essex in to a plot for 12 caravans.
A public inquiry in November 2011 decided that the plot chosen in Church Road, Laindon, was home to protected wildlife and too near existing houses.
The group challenged the ruling and Basildon Council's refusal of planning permission with the Secretary of State.
This week they received notice both decisions had been upheld.
The residents fought a bitter battle to keep their homes on green belt land in Basildon before they were evicted in October 2011.
In their search for a new site, the Dale Farm Residents' Association wanted to purchase land owned by the Homes and Communities Agency.
The public inquiry heard that the site was home to newts, slow worms and other protected wildlife.
Basildon Council refused planning permission which led to the public inquiry and the inspector upheld its decision.
Grattan Puxon, of the Dales Farm Residents' Association, appealed to the Secretary of State.
This week a letter was sent to his lawyer which said the appeal had been dismissed and planning permission for change of use of land was refused.
The travellers wanted to change the use of about 2.5 acres (1ha) of land from its current use for grazing horses to a site for 12 pitches to be occupied by former residents of Dale Farm.
They also wanted to build two stable blocks and a tack room as well as vehicle access.