Tiptree jam-maker criticises move to scrap migrant scheme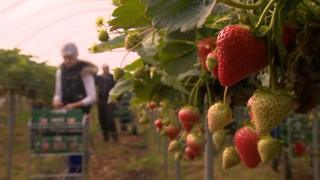 The director of a renowned jam-maker has spoken of his "frustration" at a decision to scrap a scheme allowing migrants to work on British farms.
The government is ending the Seasonal Agricultural Workers Scheme (SAWS) which has seen 22,000 Bulgarians and Romanians employed.
Since 1953, thousands of people have picked fruit for Tiptree jam makers Wilkins & Sons under the scheme.
Chris Newenham said it was a "shame" the scheme had been "binned so easily".
"It's a great disappointment and frustration as the scheme worked well and was acclaimed by everyone," Mr Newenham told BBC Sunday Politics.
Costs surge
The government wants the jobs to go to unemployed British people but farmers say they are not as efficient.
But it will close when labour market curbs for workers from those countries are lifted at the end of 2013.
A report by the Migration Advisory Committee earlier this year warned scrapping the seasonal workers scheme could also trigger a surge in labour costs and ultimately higher prices for fruit and vegetables.
Dezi Pavlova, a 24-year-old student, has come to Essex to pick fruit for the past six years and earns £320 a week.
She said she meets a lot of people at the camp where she lives in a furnished static caravan.
'Many unreliable'
"They come not only from Bulgaria but from all over the world," she said.
James Hallett, from the British Growers Association, said he would like to employ British workers but they cost five times as much as Eastern Europeans to train.
He added: "Many are unreliable, less efficient and not able to make it in the industry.
"That's a great sadness as we would like to employ more British workers."
Minister of State for Immigration Mark Harper closed the scheme because "at a time of unemployment in the UK and the European Union there should be sufficient workers from within those labour markets to meet the needs of the horticultural industry."
He said a study concluded there was "unlikely to be an impact on labour supply in the short term, although this might change in the longer term".
More on this story in Sunday Politics on 6 October at 11:00 BST on BBC One