Essex Fire Service defends solar panel rather than staff-spend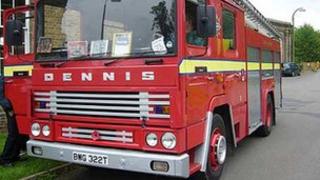 More money should be spent on staff rather than £2m being set aside for solar panels, firefighters claim.
Essex Fire and Rescue Service currently has 28 fewer firefighters than the 822 budgeted for this year.
It is now planning to spend £2m on solar panels at 31 stations around the county.
The Essex branch of the Fire Brigades Union (FBU) has criticised the decision claiming, a lack of staff had left some engines unavailable for service.
However, deputy chief fire officer Adam Eckley, said: "If we employed [more] firefighters this year, the likelihood is we would have to make them redundant next year.
"There were far more firefighters than we needed in the past. We now have the right number of firefighters.
Defending the service's decision to install solar panels at 31 stations - which will save the service £190,000 a year - Mr Eckley said it was "an investment today that will save Essex taxpayers tomorrow".
Alan Chinn-Shaw, of the FBU, said: "The question for me is more along the lines of where did the money come from?
"In this case it is from an under spend because they have not employed enough firefighters. That's consequently resulted in fire engines not being available to the public."