Essex man Russ Bost builds own 'F1' car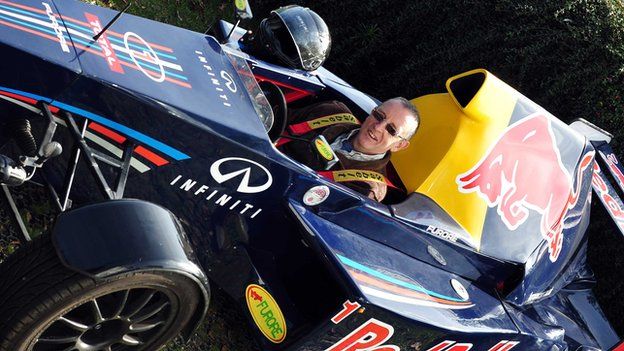 When engineer Russ Bost decided he wanted a new car, he could not find anything that took his "fancy".
As a result, Mr Bost, of Benfleet in Essex, decided to create his own dream car.
Inspired by Formula One, Mr Bost's car is road legal with number plates and a tax disc and he uses it to run errands.
"You get a lot of reaction," he said. "You can usually work out what they are saying by watching their lips. It is usually 'what the heck?'."
His car has a 190 brake horse power engine which takes it from 0-60mph (0-96kph) in 3.5 seconds.
"Under the skin it has to be a bit more practical than an F1 car, such as being able to go over bumps and so on," he said.
"It is not quite like your family hatchback, but you can fit two people in if you remove the airbox. There's lots of room behind the driver.
"I wouldn't say I drive it around for everything, but I drive them on a regular basis.
"I've driven down to Le Mans in one with a passenger and our camping gear."
He built his first car in 2005 using a Formula Ford which was cut in half and lengthened and then had two motorbike engines added.
Since then, Mr Bost, who used to run a garage, has built a further 17 chassis.
After receiving compliments about his own car, he decided to make kits for other people under the brand name Furore.