Essex homes at 'high risk' of fire to get sprinklers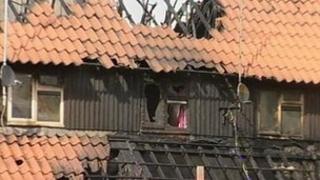 Sprinklers are to be installed in homes in Essex considered at "high risk" of fire in a £250,000 fire authority-funded project.
Properties that could benefit from the scheme include those with a previous history of fire, such as Felmore estate, Basildon.
The authority said where sprinkler systems are introduced injuries and property damage reduce by 80%.
Essex assistant chief fire officer Paul Hill said the scheme would save lives.
'Highly effective'
The authority is liaising with councils and housing associations to identify properties deemed at "high risk" of fire.
These include those housing vulnerable adults or children, high-rise premises and properties that have existing problems in achieving fire safety.
Felmore estate has been hit by 10 fires in 10 years and the most recent saw saw two women rescued from a flat in July.
The authority believes the estate's 80 or 90 flats would benefit from retro-fitting sprinklers.
Mr Hill said: "Fire deaths have almost been eliminated in buildings that have a sprinkler system fitted and maintained properly... so they are hugely effective."
He added that fire services have been lobbying for sprinklers to be fitted in all new homes in England, which already happens in Wales.
The authority estimates that the average cost of retro-fitting a typical house would be £2,500.
Mr Hill added: "A recent project at Callow Mount Flats, Sheffield to retro-fit 47 flats had a final cost of £1,100 each - so the cost isn't inhibitive, I think, not when a life is at stake."