Harlow fire deaths: Two men arrested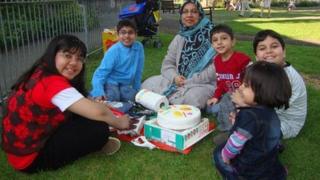 Two men have been arrested as part of a murder inquiry into the deaths of a woman and her five children at a house in Essex last year.
The men, both aged 19, were arrested on Wednesday before being released on bail until 31 October.
Sabah Usmani, 44, and her children, aged between three and 12, died following the blaze in Barn Mead, Harlow, in October.
Dr Usmani's husband, Dr Abdul Shakoor, was the only survivor.
Police said the men were arrested in connection with a burglary and fire at the house.
Another 19-year-old man arrested in May as part of the investigation is due to answer bail on 16 October.
It is believed the fire started in the lounge area, towards the rear of the end-terrace house in Barn Mead on 15 October last year.
Dr Shakoor jumped from a bedroom window in an attempt to get help, but he was unable to save any of his family.
Investigators have taken hundreds of statements and collected thousands of documents and exhibits as part of the inquiry.