Girl's death after Basildon Hospital failings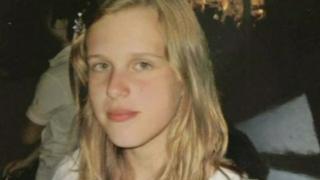 The parents of a girl who died after a catalogue of failings at an Essex hospital believe their daughter was treated as "collateral damage".
Amie Miller, 15, was taken to Basildon Hospital in November 2008 after suffering headaches at Grays Convent High School in Thurrock, Essex.
She died three days later from a brain condition.
An inquest at Essex County Hall heard the hospital missed several opportunities to save her life.
A jury returned a narrative verdict, saying medics had seriously failed to meet Amie's needs by failing to carry out basic checks, administering inappropriate treatment and failing to properly communicate with one another.
No MRI scan
Amie, from Stanford-le-Hope, died of encephalitis, which causes inflammation of the brain.
The origin of her condition, characterised by vomiting and flu-like symptoms, was not known, the inquest heard.
Doctors were described as believing she was "on the mend" and missed signs that she was deteriorating.
Dr Michel Sun Wai told the inquest: "I didn't worry too much about Amie because I believed her to be a young girl getting better."
Errors included misinterpreting the results of a CT scan and failing to carry out a MRI scan which would have identified the condition, even though one was recommended.
Basic neurological checks were not carried out and a lumbar puncture - a procedure to check the level of bacteria in her blood - may have been carried out inappropriately and actually exacerbated her condition.
'Systematic failings'
Speaking afterwards, Amie's family said she was a promising student who had dreamed of becoming a paediatrician.
Stepfather Mbarek Aitmarri said: "For us there's no doubt that systematic failings caused Amie's death.
"From the moment Amie died we faced constant evasion and were passed from one person to another.
"We feel our daughter has been treated as collateral damage and there's no real recognition of our loss."
Basildon Hospital is currently under special measures and was one of 14 named by NHS England medical director Professor Sir Bruce Keogh's report into abnormally high death rates.
A hospital spokesman said: "The Trust would also like to apologise for failings in the care provided to Amie when she was treated here five years ago.
"A number of changes have since been introduced in the treatment of children and adults with neurological illness, including the introduction of more regular observations."
A month ago the hospital was fined £100,000 after a court heard two patients died following a chronic outbreak of legionella.