Harlow bus firm denies driver's alleged mobile phone use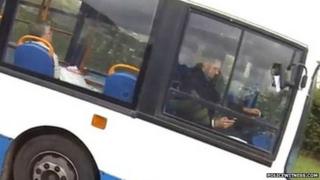 A cyclist claims to have caught a bus driver with passengers on board using a mobile telephone.
Dave Sherry, a bus driver working in London, said he captured the footage of the bus in motion on a helmet-mounted camera last week in Harlow.
Mr Sherry said he was "appalled" by what he saw and said the bus was "obviously in service".
Roadrunner Coaches said it believed the driver was not using a phone but checking a module for a ticket machine.
The firm said its policies followed the law and drivers were not allowed to use mobile telephones.
No action has been taken in relation to the matter, the company said.
It is understood the footage has been sent to Essex Police.
However, a force spokeswoman said she was unable to state whether the matter was under investigation because the officer who received the complaint from Mr Sherry was on leave.
Adam Pipe, casualty reduction manager for Essex Police, said more than 9,000 penalty tickets were given out to drivers caught using mobile telephones last year.