Free transport for Essex grammar school children could end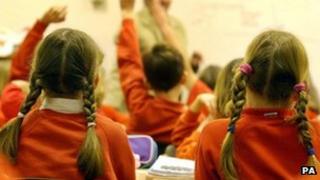 Children from poorer families in Essex could lose their free school transport if they attend grammar schools.
Essex County Council says it needs to cut its £25m annual school transport bill.
The council is also looking to reduce post-16 transport support and offer free travel only to the nearest school.
Ray Gooding, the council's cabinet member for education, said the system should be "fair, consistent and transparent".
Under its statutory duties the council has to provide free transport to a designated school for children who live more than three miles away.
But the county's six grammar schools do not form part of this statutory responsibility because they are selective rather than designated schools, and applications to them are optional.
'Unfair and outdated'
"Quite simply we need to save money right across the board and this means a review of the discretionary elements of our home to school transport policy," said Mr Gooding.
"We do not have the level of funding to continue providing the same levels of service that we have provided to students in the past.
"The existing discretionary transport policy is incredibly generous, but it is complicated, unfair and outdated."
The council has not said how much it hopes to save.
Any changes would be made in 2014 or 2015, the council said, and would not affect students supported at their current schools.
Consultation on the proposals will run for six weeks until 25 October.