Amy Winehouse portrait sold for charity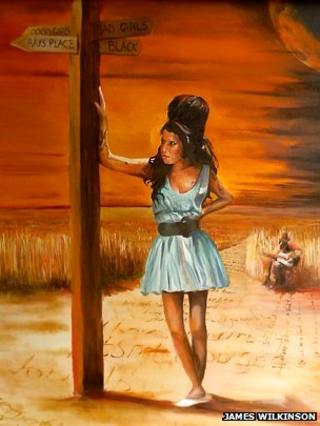 An Essex artist's oil painting of late singer Amy Winehouse has been sold at auction as part of a month-long charity drive in memory of the musician.
The 5ft (1.5m) picture by James Wilkinson was commissioned to raise funds for the Amy Winehouse Foundation.
The Chelmsford painter's work sold for £500 at the Concorde Club in Eastleigh, Hampshire, on Friday, with the auction and concert raising more than £4,000.
The singer, who would have turned 30 on Saturday, died in July 2011.
At the inquest into her death, the coroner ruled it was the result of her drinking too much alcohol.
Mr Wilkinson, the official artist to the V Festival, has been been painting portraits for more than 30 years.
He said spending two weeks creating the oil on canvas portrait of Winehouse was a "privilege".
"I'm a big fan of Amy Winehouse so it was a real privilege to have been asked and I took it on with relish.
"I know art is sometimes there to shock, but that's not my business. I wanted to create a piece of work that Mitch and Janis [Amy's parents] would enjoy.
"The foundation asked me what it would cost to commission but I said, 'let's take a gamble, I'll donate half of whatever it goes for to the charity'.
'At home with Ray'
Janis Winehouse said she felt the work "was a good likeness" of her daughter, adding she felt it was "poignant" and the family was "very touched".
The image portrays the "queen of Camden" standing at a crossroads that features lyrics from her hits and a homage to Ray Charles, one of her musical influences.
"I painted Amy at a crossroads to show a point where she's making decisions, not so much at the time she was alive but perhaps in her afterlife, the decisions she's making now," said Mr Wilkinson.
"Ray Charles was a great inspiration to her music and is featured in the lyric to Rehab where the line goes 'I'd rather be a home with Ray', which is why I've called the painting At Home With Ray."
Other events to mark the musician's 30th birthday include an exhibition of photographs of Ms Winehouse at the Proud Camden in London.
"Camden was Amy's spiritual home," said Mrs Winehouse.
"It was the hub of the universe for her - they loved her and she loved it - and they wanted to do something for her 30th. Suddenly everybody then wanted to do something to raise money for the foundation - it's come from the people.
"It's a great honour to know Amy's style and music has touched so many people and that people have told us they've given up the alcohol and the drugs - it's what the foundation is about.
"We'd have been happy with whatever the painting raised. That kind person has given money that will help under privileged children and help to change somebody's life."