Boxer Martin Ward shooting case on Crimewatch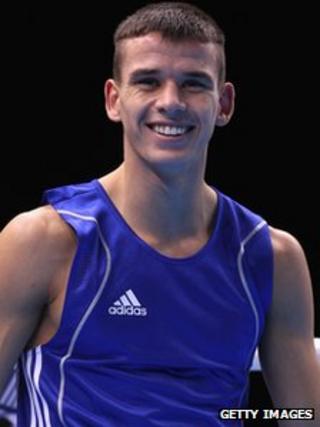 A BBC Crimewatch appeal is being made to track a suspected gunman who is believed to have shot a British boxer and his brother in Essex.
Martin Ward and his sibling John were left with wounds to the legs and chest after what police called a "neighbour dispute" in Navestock on 27 August.
Essex Police has failed to find suspect Francis O'Donoghue, who is believed to be hiding with friends or relatives.
Supt Trevor Roe said he was "relying on people" to help police hunt him down.
Police said the shootings happened at a travellers' site off Goatswood Lane in Navestock at about 15:30 BST, as a culmination of a feud that began outside a shop in Harold Wood earlier that day.
'Number one priority'
Officers said they had received reports of "several sightings" of Mr O'Donoghue during the last couple of weeks, but leads had so far failed to amount to an arrest.
Mr Roe said: "Tonight's appeal on Crimewatch will highlight Francis O'Donoghue to the nation and reinforce to people why he is the force's number one priority arrest.
"The support we have so far received has been fantastic, but we do urge them to continue with the calls."
Police said people should not approach Mr O'Donoghue as he may be in possession of a handgun, with anyone coming into contact with him urged to call police immediately.
He is described as 5ft 11in tall, of medium build and he speaks with an Irish accent.
Former European junior champion Martin Ward, 22, represented Great Britain before turning professional last September. He has won all of his bouts since.
Both Mr Ward and his brother have been discharged from hospital and are recovering with relatives.
Boxing promoter Matchroom, which represents Mr Ward, has declined to comment during the police investigation.
The appeal is being aired on BBC One at 21:00 BST.