Neil Spooner fined for Margaretting Tye waste dump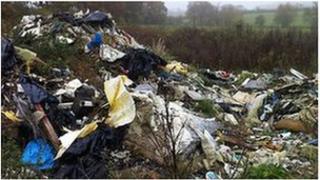 A former farm owner has been fined £2,000 for allowing a "lagoon" of waste to be dumped illegally.
Neil Spooner, from west London, was charged with two waste-related offences by the Environment Agency.
The offences - of allowing waste to be dumped and stored illegally - related to Little Tressels Farm in Margaretting Tye.
At Chelmsford Crown Court, the 52-year-old was also told to pay £2,913 in case costs.
Spooner, who admitted the offences, which happened in 2011, was evicted from the farm in Margaretting in 2012.
Previous court hearings had been told how Environment Agency officers discovered the "lagoon" and piles of medical and domestic waste measuring 100ft (30m) in diameter and between 3ft and 9ft (1m to 3m) in height.
These stacks included glass, plastic and concrete.
A barn, with modified doors to accommodate large vehicles, was packed with mattresses and plastics.