Clacton sea defence plan agreed by Environment Agency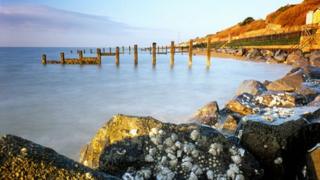 A £36m sea defence scheme for a three mile (5km) stretch of the Essex coast has been agreed.
The Environment Agency has signed off Tendring District Council's plans for fish tail groynes along the coast between Clacton.
The council said its plans, which includes replenishing the beach, will last 100 years and protect 3,000 homes.
Work is expected to start in just over a year. Most of the project cost will be met by the Environment Agency.
Nick Turner, the council's cabinet member for environment and coast protection, said: "We have worked incredibly hard with our partners to get where we are today and it really is a dream come true."
Mark Johnson, coastal manager for the Environment Agency, said the project was "critically important".
Planning permission will be needed before the defence works can start.