Jack Hummerstone guilty of Thomas Brittain murder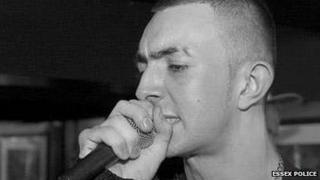 A teenager has been found guilty of murdering a song composer and music producer in a "planned" and "callous" attack.
Thomas Brittain, 26, bled to death after being stabbed by 18-year-old Jack Hummerstone at a flat in Colchester.
Hummerstone attacked Mr Brittain after breaking into the flat early on 9 March to steal cash and drugs.
He was found guilty of murder and grievous bodily harm with intent at Chelmsford Crown Court.
Andre Vella, 19, from Village Close, in Kirby Cross, was found not guilty of the two counts.
Hummerstone, described in court as a "very unpleasant criminal", became involved in a struggle with Mr Brittain, also known as Twister.
'Well respected musician'
Mr Brittain, who had been staying with friends in Parkside Quarter, in Colchester, died on the floor from a punctured lung.
He had suffered several other knife wounds.
Det Insp Anne Cameron, of Essex Police, said: "Tom was a well-respected musician who spent his last few months in fear of Jack Hummerstone, resulting in Tom losing his flat, his possessions and ultimately his life.
"This was a planned callous violent attack on a defenceless family and particularly Tom."
The court heard Mr Brittain was staying with Matthew Purves and Zoe Lewis and their three children.
Mr Purves and Mr Brittain were dozing in the living room of the flat when they heard banging and shouting outside the front door at about 02:00 GMT.
Two masked men wielding a kitchen knife and a fake gun forced their way in, the court heard.
Miss Lewis came out to see what was happening and was threatened with a knife.
She managed to break free and ran to the children's room where she was joined by Mr Purves, who was injured in the scuffle.
Both parents tried to protect the children and hold the door closed while dialling 999 for help, the court heard.
Hummerstone, of no fixed address, had claimed he could not have fatally stabbed Mr Brittain because he was carrying a fake gun at the time.
He said he took a gun as it was "scarier than a knife".
Hummerstone and Vella both admitted possession of an imitation firearm. Hummerstone admitted aggravated burglary, while Vella was found guilty of the offence.
Hummerstone was also convicted of grievous bodily harm with intent for the attack on Mr Purves. Vella was cleared of the charge.
They will be sentenced in two weeks.