Essex Police chief constable: Funds 'toughest in generation'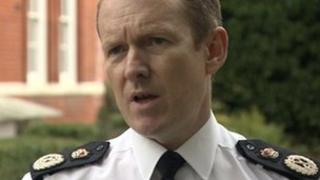 A chief constable has claimed the current state of police finances are the "toughest in a generation".
Essex Chief Constable Stephen Kavanagh made the claim during a briefing marking his 100th day in the post.
Mr Kavanagh said the force's top priority was tackling domestic violence after a number of critical reports into its handling of such cases.
Given more funding, he said, he would spend it setting up separate domestic violence units across the county.
His comments come as Home Secretary Theresa May outlined details of a review into how domestic violence cases are handled by forces in England and Wales.
The review by Her Majesty's Inspectorate of Constabulary (HMIC) will report back to the Home Office in April 2014.
'Violent men'
"My job is to deliver with the resources I am given," said Mr Kavanagh.
"It is very tough in policing, the toughest in a generation.
"I will not guarantee there will never be another domestic abuse murder in this county.
"There are violent men who will bully and sometimes act in a very violent manner, but I can be absolutely committed to saying we will do everything we can to reduce the chances of that happening".
In Thurrock and Southend, he said, a new triage system for possible domestic violence cases was to be introduced.
He said he was also bringing back a dedicated team for domestic violence - a unit which had previously been cut.