Southend station wheelchair fall: Was woman pushed on to track?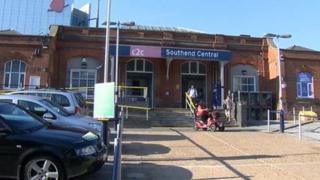 Transport police are investigating whether a woman in a wheelchair was pushed on to railway tracks.
The 71-year-old woman from Benfleet was at Southend Central station, Essex, with a friend on 28 August when her wheelchair rolled off the platform.
A railway worker who helped rescue her was suspended amid suggestions he may have breached safety regulations by going on to the track.
The woman suffered a fractured hip in the fall.
Det Con David Bishop of British Transport Police said the woman remained at Southend General Hospital.
He said police wanted to speak to anybody who may have seen the woman fall, or seen her in the moments leading up to the incident.
The suspended member of platform staff was one of a number of people who went to the woman's aid.
'Safety procedure'
The tracks were clear by the time the next train arrived at the station.
A spokesman for train company c2c said its employee had been suspended while an investigation took place.
He said: "We have strict rules regarding the safety procedure for the quickest way of stopping trains in an emergency.
"An employee has been suspended while our investigation into this incident continues."
Bob Crow, general secretary of the National Union of Rail, Maritime and Transport Workers, said the decision to suspend the worker was "diabolical".
"What did they expect him to do - just stand by and watch?" he asked.