Thorrington car crash: Mother's tribute to nine-month-old baby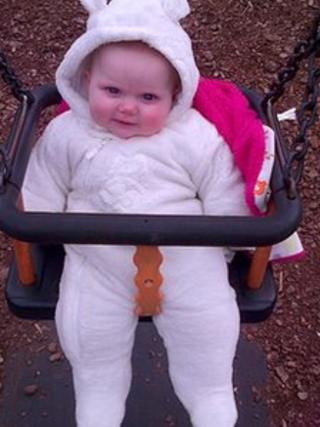 A mother whose nine-month-old daughter died after a car crash in Essex has called her a "shining star".
Diamond Roberts died in Addenbrooke's Hospital after being airlifted there with her mother following a collision on 23 August.
The crash between a Land Rover and a Hyundai happened on the B1027 Clacton Road, Thorrington.
Diamond's mother, who is from Colchester but is not being named, said she was "truly a shining star".
She added: "We only had her for nine precious months but in this time she changed so many people's lives with her happy, smiley face.
"She had three precious sisters who adored her and would have done anything for her.
"Her gift of organ donation means she has saved other people's lives and we will take comfort from the fact she will live on because of this.
"She will be missed by many - her mummy and sisters will never forget her."
Essex Police said their inquiry into the crash was continuing.
A 61-year-old man, from St Osyth, near Clacton, is on bail until 2 December.