Thurrock Thames Gateway Corporation ex-directors' payoffs 'irregular'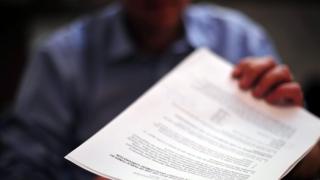 Two former directors of a development quango shared "irregular" payoffs amounting to more than £117,000 when it folded, it is claimed.
The payments relate to the closure of the Thurrock Thames Gateway Development Corporation.
A report for the Department for Communities and Local Government (DCLG) said the National Audit Office labelled the payments "irregular".
The directors concerned deny the payments were inappropriate.
The report says redundancy notices for the six staff still working at the corporation when it folded last October were not issued until just before it closed.
This was despite the fact they had known for more than six months the corporation had to close by law on 31 October.
That meant staff were entitled to be paid for their notice period, known as "pay in lieu of notice". In total, that came to more than £150,000.
Four junior members of staff shared £34,234.
'No objections'
The remaining £117,073 was shared between the former director of resources Sean O'Donnell and chief executive Niall Lindsay. The pair were involved in deciding when to issue those redundancy notices.
The final draft of the investigation report, leaked to the BBC, said the National Audit Office labelled those payments "irregular".
Thurrock Council, which took on the development corporation's responsibilities when it closed, has started legal proceedings against the two directors for the return of the money.
A joint statement from Mr Lindsay and Mr O'Donnell said reports to those overseeing the closure of the corporation "covered all aspects of the closure arrangements, including the timing of redundancy notices".
"Between March and 4 October no objections or dissenting views were expressed at any of the board meetings from any party."
But the investigation report contends they were required to "actively seek" the DCLG's approval for payment in lieu of notice - and that investigators have not seen evidence the department formally approved the payments.
Investigators also criticised the DCLG, claiming its officials failed to attend board meetings and should have been more involved in the winding down of the corporation.
A spokesman for the DCLG said: "Financial concerns were raised during the close down and a government investigation has found that irregular sums of money were paid in lieu of notice.
"This is not acceptable. We are working with the council to take whatever steps are necessary to protect taxpayers' interests."