Essex Police investigate seven child sex cases with multiple victims in a year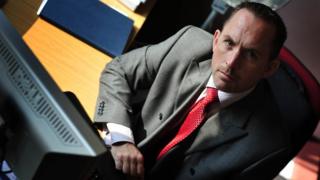 Seven child sex cases, each with multiple victims, have been investigated by Essex Police in the last 12 months, it has emerged.
And the force believes there could be hundreds of child abuse victims in the county, some of whom may not even realise they are victims.
Det Supt Ewen Wilson said "stranger danger", as it was once known, is extremely rare.
Instead, he said child abuse is often carried out by known people, or online.
Cases dealt with recently included the grooming of a number of vulnerable children so they could be sexually abused, and even prostituted.
The abuse, he said, often begins with abusers identifying a victim of about 12 or 13 years old - the age parental influence begins to loosen - and then befriending them in person or online.
The victim will then be given gifts - often a mobile telephone, because that gives the abuser access to the child.
'Devious and dangerous'
Later, they could be taken to parties, introduced to drugs and alcohol and the sexual exploitation will begin.
One victim, who is from outside of Essex, described the difficulty in getting away from an abuser.
"I think to myself, why didn't I try and run away or try and get away?" she said.
"I was scared to say no, because they would not accept no as an answer for anything."
Det Supt Wilson said Essex Police were still working to establish the scale of the problem in the county.
The profile of such cases has risen in the wake of prosecutions in Oxford, Rochdale, Derbyshire and east London.
"Offenders will often seek out the most vulnerable," he said. "This might include children in care, children with a learning disability, children who are regularly missing from home, but it can also include perfectly stable children from a respectable family.
"We have seen a wide spectrum of children become subject to these devious and dangerous people."
He said in his two decades as a police officer, he had seen only a handful of genuine "stranger danger" cases.
'Immense harm'
Although cases of child abduction are far more rare than child abuse, the Child Exploitation and Online Protection Centre (CEOP) said continuing awareness of the risk was essential.
Between 2011 and 2012, 247 of the 592 cases of child abduction were carried out by a stranger.
CEOP told the BBC it was currently working with experts to "revamp" its stranger danger message.
CEOP chief executive Peter Davies said child abduction could cause "immense harm", adding: "Contrary to what some might assume, a significant proportion of abductions are carried out by strangers."