Eric Pickles' delight at cutout's Deep South journey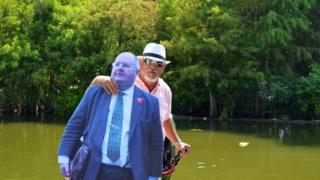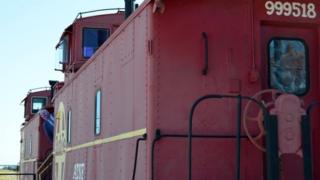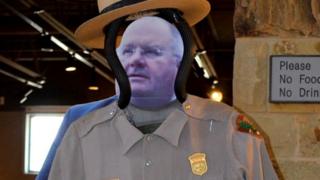 Communities Secretary Eric Pickles has spoken of his delight at learning two students were taking a life-size model of him on a journey across the US.
University students James Johnson and Daniel Falvey, from Kent, are currently wending their way across the Deep South.
Making the journey with them is a life-size cardboard cutout of Brentwood and Ongar MP Eric Pickles.
The pair said they were "huge fans" of the politician.
Images of the cutout communities secretary have been taken during an alligator hunt, next to Civil War artillery and on Miami Beach.
Mr Pickles, who is understood to have spent his summer holiday closer to home in Norfolk, said: "I'm delighted they are taking me on such a wonderful trip without spending a penny of taxpayers' money."
'People laugh'
Mr Johnson and Mr Falvey, both 21, currently in El Paso on the Mexican border, are about halfway into their five-week trip.
Explaining why they brought along a cutout of the communities secretary, Mr Johnson, who is studying history at the University of Oxford, said: "We thought if we're going on a road trip it would be great to have something to spice it up.
"We're both Conservatives and interested in politics, so decided there was no-one better to come on the trip than Eric Pickles.
"He's got a great sense of humour, he's a great politician and we thought he'd be a great addition to the journey.
"He hopes we'll take him further afield next year - he's played along quite well which is exactly what we were hoping, that he'd respond in a humorous way.
"We've brought him along purely because we wanted to do something to make people laugh."
Mr Falvey, who is studying management at Nottingham University, and Mr Johnson are both from Folkestone and met at Harvey Grammar School.