Deanes School set to close after council consultation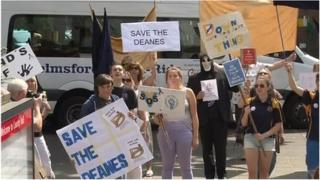 An Essex school is set to close despite a campaign to keep it open to meet the needs of planned housing developments.
After a six-week consultation the county council has announced plans to close the Deanes School in Thundersley.
Campaigners may now seek a judicial review of the decision, branded "short-sighted" by a Basildon councillor.
The county's education department said it was not an easy decision but campaigners' views were taken into consideration.
However, Phil Turner, of Basildon council, said it had been taken purely for financial reasons and future needs had not been taken into account.
'Tough times'
Mr Gooding said views and evidence had been gathered from pupils, parents, schools, teachers, borough and unitary councils and community groups.
"Pupil numbers are declining across the area, the Deanes School is not the preferred local school for many parents and a declining roll will have a negative impact budget and the quality of education," he said.
"I have considered planned housing developments, predicted pupil intakes, birth rates and in-migration and I have grave concerns about the yearly intake of 120 pupils the school needs to survive."
Mr Turner said the next step for the action group that had been fighting closure could be to seek a judicial review.
"The decision is outrageous and short-sighted when Castle Point is looking at building 4,000 new homes, Basildon at least 6,000 and more than 18,000 at least by other authorities," he said.
"These are tough times but officers recommending closing schools to save money is not looking after the needs of the community.
"When people move into these new homes, and there are a lot more to be built, then we are going to have to find a lot more of taxpayer's money for new schools."
No confirmed date has been issued on when the school could close.