Saffron Walden Museum's £60,000 treasure appeal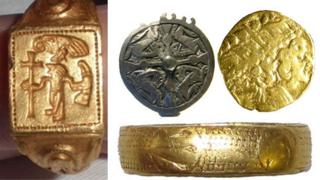 A museum in north Essex wants to raise £60,000 by December to enable it to keep five archaeological treasures discovered in the area after 2011.
The "most amazing find", according to Saffron Walden Museum Society, is a gold Anglo-Saxon ring, which combines late Roman Christian and pagan symbols.
It has launched the appeal to keep the items close to where they were buried.
The finds, made by metal detector enthusiasts, were declared treasure after their discovery.
The museum said the Anglo-Saxon ring is "exciting and puzzling experts".
Tony Watson, chairman of the Saffron Walden Museum Society, said: "It is the most amazing find and has much to tell us about the royal authority and the adoption of Christianity in a formative period of England's history."
He described the other objects as "quality finds".
Local funding needed
They include two 1st Century BC gold coins, which are the earliest ever found in the district, and two silver Anglo-Saxon objects from the 9th Century.
The fifth treasure is a gold ring from the Tudor or Jacobean period, engraved with the symbols of Christ's passion.
This suggests the owner may have been Catholic at a time when it was dangerous to practice the religion.
The museum hopes that most of the £60,000 will come from grants, but at least £7,500 of local funding is required.
If the money is not raised in time, the items could be bought by other accredited museums, and should no suitable buyer comes forward they could be sold on the open market by the finders, a museum spokeswoman added.