Essex M25 fatal crash: Lorry driver Anton Maizen jailed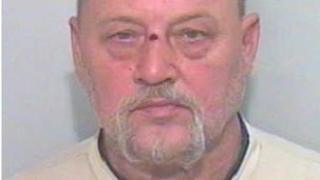 A lorry driver has been jailed for four and a half years for causing death and serious injuries by dangerous driving.
Ronald Moughton, 79, of Ilford, died when four lorries and six cars collided on the M25 in Aveley, Essex, in April.
Mr Moughton's son Keith, his passenger at the time, and Carol Boulton, who was driving a Mercedes, were seriously injured in the crash.
Anton Maizen, 58, from Wixhausen in Germany, admitted the charges at Basildon Crown Court last month.
He was also banned from driving for five years.
Chris McCann, of the Crown Prosecution Service (CPS), said Maizen had been driving for a long time without sleep and crashed into the back of queuing traffic.
"Anton Maizen knew he was over his hours as a lorry driver yet carried on driving," said Mr McCann, following the sentencing.
"He did not pay attention to the warning signs of stationary traffic on the M25 and hit the rear of the queue at a speed of between 55 and 60mph (88 to 96km/h)."