Former GB boxer Martin Ward shot on Essex farm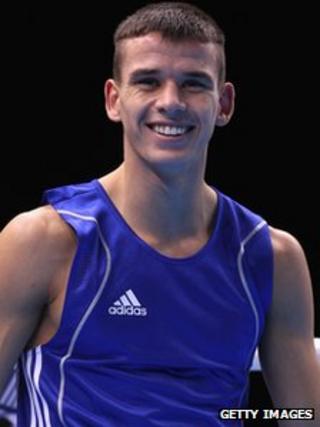 A former Team GB boxer and his brother were the two men shot on farmland in Essex, the BBC understands.
The victims, thought to be undefeated lightweight boxer Martin Ward and John Ward, were left with wounds to the legs and chest when they were shot in Navestock.
The men were attacked on Tuesday in what Essex Police have called a "neighbour feud".
Officers are searching for 27-year-old suspect Francis O'Donoghue.
Police say Mr O'Donoghue was believed to have been at his home on the farm off Goatswood Lane, Navestock, at the time of the incident.
The boxer thanked people for their support via his Twitter account: "Thanks to everyone for the messages and phone calls of support for me and my brother John!
"Really does mean a lot! On the road to recovery now!"
The 22-year-old is a former European junior champion and represented Great Britain.
He was hopeful of making the squad for the London Olympics but was overlooked by selectors.
He turned professional last September and has won all six bouts since.
A police spokesman said officers were now searching other traveller sites in London and Hertfordshire as part of the investigation.
It is thought Mr O'Donoghue, a glazier, might be hiding out with friends and relatives, he added.