Sudbury electricity sub-station consultation 'pointless'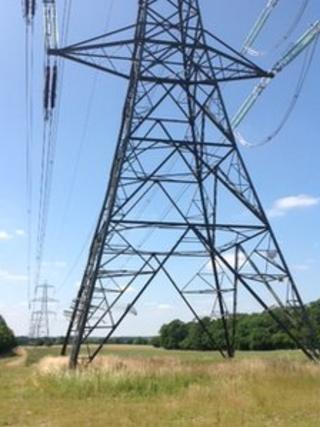 A campaigner opposing an electricity sub-station in Essex has said a public consultation has been "pointless".
National Grid said it considered local views before choosing land off the A131, near Sudbury, as its preferred location.
The sub-station is part of a proposed overhead line and underground cable connection from Bramford to Twinstead.
But David Holland, of action group Stour Valley Underground, said the company had "not listened".
The power company also considered sites near Castle Hedingham, at Colne Valley Farm Park and Delyvn's Lane.
'Significant' cost
Mr Holland said the chosen site had met widespread opposition locally and it would be best if the facility was built on the site of an existing sub-station in Braintree.
"Further community engagement is pointless as they have not listened to public opinion," he said.
National Grid said it reviewed alternative options to a new sub-station as a result of the consultation.
These included laying an underground cable to the existing Braintree sub-station but National Grid said this was unsuitable due to "significant" high costs and "likely impacts" on archaeology and biodiversity.
The company's preferred site already has an 400,000-volt overhead line running through it.
Brian Smethurst, senior project manager for National Grid, said: "We have consulted extensively with residents and specialist bodies, and have listened to their concerns on a wide range of issues from the landscape and ecology to heritage and transport.
"The site is already well-screened by two large areas of woodland, with scope for more landscaping, and there is good access from the A131."
In May last year, the firm announced it would put most of its proposed new power lines for south Suffolk on pylons rather than underground.
It intends to bury five miles (8km) of the 17-mile (28km) route between Bramford, near Ipswich, and Twinstead in Essex.