Tesco Saffron Walden 'deer head on till' man sentenced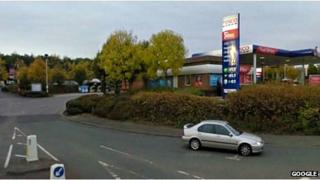 A disgruntled former Tesco worker who returned to the store to leave a severed deer's head on a till has been given a suspended sentence.
James Hyett, 33, felt he had not been supported by his employers when he was sacked from the Saffron Walden store, Colchester magistrates heard.
He admitted criminal damage to a self-service checkout, aisle and a cleaning machine on 4 June.
Hyett, off Laws Close, was given a 16-week sentence, suspended for 12 months.
Staff found the deer's head on the till and identified Hyett on CCTV footage, the court heard.
He also left what was believed to be animal intestines strewn across a shelf in the bread aisle and a yellow liquid, thought to be oil, in a cleaning machine at the Radwinter Road store.
'Suffering breakdown'
Chairman of the bench Barry Hawes said the offence had caused "considerable distress and anguish for staff and members of the public".
Gemma Lee, representing Hyett, said his Tesco contract had been terminated for "one reason or another" and at the time of the offence he was suffering a breakdown.
She said he was very remorseful and recognised the consequences of his actions.
"He has taken his own steps to deal with his behaviour," she said.
She told the court he was now under the care of a psychiatrist and was getting help for an alcohol problem.
Magistrates also made Hyett the subject of a 12-month supervision order and told him he must take part in specialist alcohol treatment and employment programmes.
He was also ordered to pay £250 towards the specialist clean-up at Tesco.