Southend bank holiday business hampered by Essex floods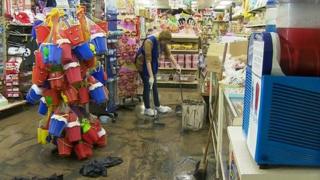 Torrential rain and sewage that flooded properties caused thousands of pounds worth of damage on the south coast of Essex, business owners say.
Martin Richardson, owner of Southend's Happidrome Arcade, said: "It was like a tsunami. It came from nowhere and just flooded down the street."
Homes across Essex were hit by the floods with Canvey Island and Rayleigh among the worst-affected areas.
Essex fire service received more than 300 flood-related calls.
Councillor Judith McMahon said being the bank holiday the timing of the floods in Southend "couldn't be worse".
'Insufficient capacity'
"The impact on the individuals on what I understand was a terrific explosion of a sewerage drain on the adjoining road has been catastrophic for the businesses here," Mrs McMahon said.
"It couldn't be a worse time for the businesses on this bank holiday weekend to be affected by the intense flooding and to have insufficient capacity for drainage in the area.
"I can only recommend the council look with real clarity at whether the drainage that is available coming from the fountains in this beautiful town, down to the area where the flooding has occurred, is appropriate."
The most severely affected areas were in the east of the county with the vast majority of calls coming from Hockley, Canvey, Westcliff, Rayleigh, Basildon, Billericay and Leigh.
'Low footfalls'
Mr Richardson said: "It was scary. I was 18in (46cm) deep in water throughout the whole arcade and was racing with all the staff to move machines, to get customers out.
"The water was sewage, rain, you name it - we were wading around in anything and everything it was just torrential. There's hundreds of thousands of pounds worth of damage. We've got machines here that are the only ones of their type in the country.
"The summer has been bad enough with low footfalls, but this has knocked us back severely."
Police are continuing to advise motorists to avoid the A127, particularly at the Rayleigh Weir, which remains flooded.
A family was rescued from their Mitsubishi Pajero when it started to sink in floodwater under a railway bridge on Spa Road, Hockley, about 18:00 BST on Saturday.