Essex flood water causes Billericay flats evacuation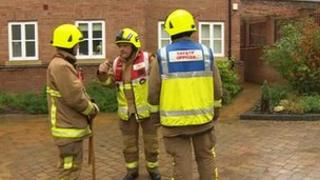 A block of flats was evacuated and parade of shops was left flooded after torrential rain in Essex.
Residents were evacuated from flats near Billericay's High Street after 50mm (2in) of rain caused a landslip to "partially collapse" a nearby wall.
The fire service said it was worried because it was up against a "residential housing block".
The town's Waitrose, which has just received a £4m refit, had to close at midday after it was flooded.
Essex fire service said it had to deal with a "deluge of flood calls" with incidents centred around Basildon, Billericay, Benfleet and Southend.
Terry Webb, from Essex Fire and Rescue Service, said: "We've had a lot of surface run off that had got behind a retaining wall that caused it to partially collapse.
"We were worried because it's up against a residential housing block so we're working with the local authority to make it safe so the residents can move back in."
'Common sense'
Diners at the Breakfast Room in Billericay had to leave as water started to pour into the cafe.
Michelle Owners, one of the staff, said: "It was all pouring down the walls and tiles. We had to just clear the shop out."
The BBC Weather Centre reported 51mm of rain fell in six hours, with more wet weather forecast overnight.
A fire service spokesman said: "It is important that when faced with water drivers exercise a little common sense. If they can they should find an alternative route.
"Just driving into water and hoping for the best is not an option, by the time you find out the water is too deep you are already trapped."
Several roads in the south of the county remain closed this evening.