Deanes School closure branded 'short-sighted' by councillor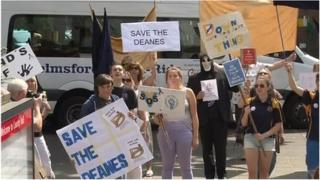 The planned closure of an Essex secondary school has been criticised by a councillor as "short-sighted".
The county council wants to close The Deanes School in Thundersley because of a projected fall in pupil numbers.
But Basildon Council deputy leader Phil Turner said planned new homes meant pressure on school places was unlikely to ease, so closure was "illogical".
The county council said Basildon Council's views had been included in the consultation over the move.
Mr Turner said: "We have 95 Basildon pupils at the school who all face the uncertainty of where they will finish their secondary education because of this short-sighted decision."
He said he was "disappointed" that Basildon Council was not formally consulted over the closure plans.
"We are very much opposed to the closure of this school because we want to protect the parental choice of borough residents and their ability to access good schools for their children."
'Politically myopic'
He said he believed the requirement for new homes in the area meant pressure on school places was "unlikely to decrease".
He said: "A decision by Ray Gooding, cabinet member for education, to close Deanes would therefore be nothing more than short term expediency [and] illogical, perverse and politically myopic."
A statement from Essex County Council said Basildon Council "was not a statutory consultee as defined".
The statement went on: "In the context of the publicity the consultation received, and with six weeks being available for the consultation, it is a little surprising that Basildon Council did not make contact with Essex until after the consultation had closed."
Basildon Council's views were still included though.
The county council wants to close the school as it believes investing in necessary improvements to the 1970s building is not a good use of public money.
A formal consultation into the closure ended on 22 July.
More than 3,000 people have signed a petition against the closure and protestors demonstrated outside council offices before the consultation ended.
A decision is expected in early September.