Council wants 'zero cost' Clacton Air Show: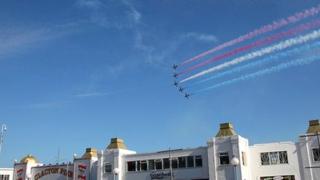 Visitors to a free air show in Essex are being asked to make donations so the council can avoid footing the bill.
Clacton has the only air show in Essex after Southend Borough Council axed this year's event due to budget cuts.
About 140,000 people are expected to attend the festival on Thursday and Friday.
Alan Goggin, from Tendring District Council, said: "We're about £20,000 short and hope to get that back over the next two days."
The council said 90% of the cost of the event, now in its 22nd year, had been received through business sponsorship and selling concessions to traders.
It hopes visitors will contribute by buying £4 souvenir programmes and donating at least a £1 to bucket collections along the seafront and beach.
'Zero cost'
Mr Goggin, portfolio holder for tourism, said: "The show is estimated to bring in £4m of extra revenue to the district during the week before and the week after the bank holiday and we genuinely think it is a cost worth bearing.
"But we are hoping to produce the whole event at zero cost.
"It has been brought home to us that Southend has cancelled, Felixstowe has cancelled and there have been several others around the country where the local council has said it cannot justify the money."
The council, which is yet to give a cost for this year's event, said the 2012 show cost about £80,000 - £20,000 of which was funded by tax payers.
Displays by a Vulcan bomber, the Red Arrows, the Battle of Britain Memorial Flight and Trig Aerobatic are due to appear above the resort.
A non-profit making private company has been set up to revive Southend Air Show next year.