V Festival medics treat 657 people as police arrest 114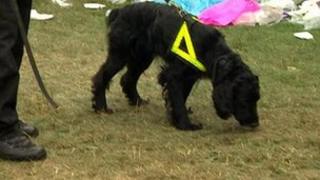 Paramedics and ambulance staff provided first aid to 657 people at V Festival in Essex over the weekend.
Twenty-eight were taken to hospital but the number treated at the annual event at Hylands Park, near Chelmsford, was down from 752 last year.
St John Ambulance volunteers were present throughout the event providing medical cover in a joint venture with the East of England Ambulance Service.
Police made 115 arrests, many for drugs offences, using sniffer dogs.
Darren Bartholomew, of St John Ambulance, said: "With up to 85,000 festival goers we were called upon to deal with many different types of first aid incidents."
Drugs dogs
The team of 160 volunteers included healthcare professionals, ambulance crews and first aiders.
They staffed five treatment centres and a 24-hour advanced medical centre with high-tech life support facilities similar to those of a military field hospital.
Police said the arrests included 22 people on suspicion of drug dealing and 75 for drug possession, after sniffer dogs were used among the crowds to identify suspects.
Three men from Essex have appeared at Chelmsford Magistrates' Court charged with drugs offences and remanded on bail until early September.
Chief Supt Andy Prophet, said: "The work of our drugs dogs in sniffing out those in supplying drugs has been a key element in our tactics this year and its one that has worked really well."
Headline act Beyonce was 25 minutes late for her slot, leaving her fans waiting in heavy rain and opening to boos from the crowd.