Thomas Brittain stabbing: Murder trial begins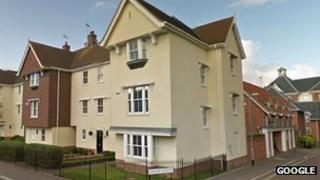 A music producer was stabbed to death during a raid by two masked men at a flat in Essex, a court has heard.
Chelmsford Crown Court was told Thomas Brittain, 26, bled to death, while his friends Matthew Purves and Zoe Lewis tried to protect their children.
His body was found at Parkside Quarter, Colchester on 9 March.
Andre Vella, 19, from Village Close, Kirby Cross, and Jack Hummerstone, 18, of no fixed address, deny murder and wounding with intent.
Vella denies possession of an imitation firearm while Hummerstone has admitted the same charge.
Mr Brittain was a songwriter and music producer, also known as Twister.
Masked men
The court heard he was staying with Mr Purves and Miss Lewis at the time of the attack at a house they shared with their three children, all under five.
Prosecutor Tony Prosser told the jury that Mr Purves and Mr Brittain were dozing in the living room of the flat when they heard banging and shouting outside the front door at about 02:00 GMT.
Two masked men wielding a kitchen knife and a fake gun forced their way in, the court heard.
Mr Prosser said one of the men held a pistol to Mr Purves's head and told him "to keep down".
Miss Lewis, who had been asleep in her bedroom, came out to see what was happening.
"One of the men pulled her hair, held a knife to her face and told her to shut up," Mr Prosser said.
She managed to break free and ran to the children's room where she was joined by Mr Purves.
'I've been stabbed'
Mr Prosser said: "Later one of the men tried to force his way in.
"Both parents tried to protect the children and hold the door closed while dialling 999 for help.
"It went quiet and Mr Brittain was heard to say 'I've been stabbed'."
Mr Brittain died on the floor from a punctured lung. He had suffered several other knife wounds, the jury was told.
The court heard the men accepted they carried out the raid, but blamed one another for the stabbing.
Mr Prosser said the pair had "clearly armed themselves with weapons, whether this was a plan for a robbery, for drugs or a punishment beating, we don't know".
He added: "What is certain is that they went to the flat with a hostile intention."
The trial continues.