Cricket's Trevor Bailey has Colchester road named after him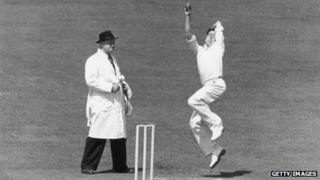 The England cricket all-rounder and BBC Test Match Special commentator Trevor Bailey has had a road named after him in his home county of Essex.
Bailey, who died aged 87 in 2011, played county cricket for Essex for more than 20 years and made his Test debut against New Zealand in 1949.
He was born and died in Westcliff-on-Sea, Essex, and spent his entire first-class career with his county team.
Trevor Bailey Drive is on a new housing estate near Castle Park in Colchester.
Bailey regularly played at the ground in Castle Park during his Essex career.
After his death in a flat fire, he was described as one of England's great all-rounders in a series of tributes.
Bailey scored 2,290 runs and took 132 wickets for England during his Test career and was a member of the side which won three successive Ashes series against Australia in the 1950s.
The road is on a development being built at a former council highways depot off Jarmin Road and Catchpool Road.
The name was approved by Colchester Borough Council after being suggested by councillor Martin Hunt and the town's MP, Sir Bob Russell.