Police in Clacton warn of 'bogus beggars' in resort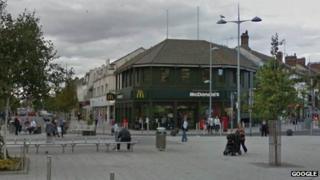 People have been urged not to give money to beggars after a homeless man complained to police that "bogus beggars" were affecting his income.
Essex Police said some people begging in Clacton had been found to be living in houses in the town.
The force said they were making life harder for "genuinely homeless people".
Police said they would arrest anyone begging and use a dispersal order allowing them to move along groups causing an "anti-social nuisance".
They said they were acting after a "genuine homeless person" complained to police about "money-grabbers" in the seaside resort.
'Scandalous crime'
PC Gary Coe said: "These bogus beggars are dotting themselves around the town and seafront and usually arm themselves with a dog to tug at the hearts of passers-by.
"It's ironic and sad that the unfortunate victims of this scandalous crime are the genuinely homeless people who are desperate for shelter and food.
"These fake beggars live in houses within the Clacton town area."
He urged people to donate to homeless charities, rather than to beggars, so they could be sure where their money was going.
"In many cases, the money that people give to these bogus beggars out of kindness is spent on high-strength alcohol or illegal substances," he said.
"This can often lead to drunkenness and anti-social behaviour which undermine our efforts to make the town a safer and more pleasant place."
The police's actions are being backed by Conservative-run Tendring District Council.
Peter Halliday, leader of the council, said: "Unfortunately there are those who will try to prey on people's generosity and kindness and residents and visitors just need to be aware of that.
"We will support any action which will make out town centres a better environment for people to live in and visit."