Holland-on-Sea street robbery suspect sought by police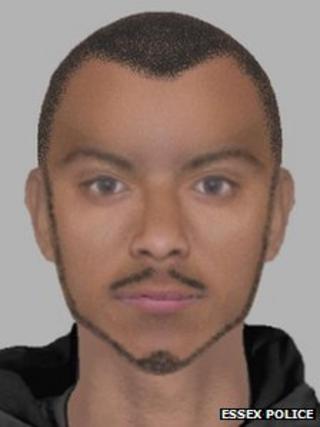 Police have released an e-fit picture of a man they want to speak to after a violent street robbery in Essex.
An 18 year-old-man was attacked as he walked along the lower promenade off Kings Parade in Holland-on-Sea just after 21:00 BST on Monday.
A man jumped out from behind a beach hut and hit him on the head with an unknown object, punching him in the face and stealing his mobile phone.
However, the victim fought back and hit his attacker in the face.
He recovered his phone and ran away, leaving his attacker on the ground.
The victim's head was cut but he did not need professional medical treatment.
His attacker is described as being of mixed heritage and in his early 20s.
He is skinny, about 5ft 10ins (1.8m) tall and had a pencil beard and moustache.
Det Sgt Coyles of Essex Police asked people to get in touch if they remembered a housemate, brother, partner or son returning home with a cut or bruised face.
"The e-fit is excellent, as is the description, so we are confident someone knows him," he said.