London Southend Airport is rated best in the UK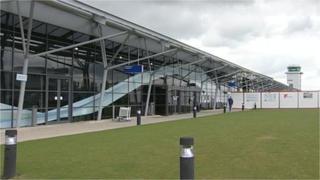 London Southend Airport has been named as the UK's best in a passenger survey.
The Essex airport achieved a customer satisfaction score of 84% in the survey of more than 11,000 people by consumer magazine Which?
Customers praised speedy check-in and arrivals at the airport, which was acquired by Stobart Group in 2008.
Smaller airports out-performed larger hubs in the online poll. London Luton came bottom with a customer score of 43%.
Of the larger airports with four million or more passengers a year, Newcastle International came top with a customer rating of 69%.
Richard Lloyd, executive director of the magazine, said: "It is clear some of our major airports have some work to do if they are to keep more of their passengers satisfied."
'Wonderful news'
Stobart Group has invested more than £100m at London Southend since taking over.
New facilities include a railway station, an air traffic control tower, a terminal building, a runway extension and new radar.
The larger terminal, due to open in December, will enable it to handle more than a million passengers a year.
The airport scored a maximum five-star rating in five of the 10 categories assessed, including design and information and navigation.
David Lister, operations director, said: "This is wonderful news and testament to all the hard work that the team here at London Southend has put in."
London Luton Airport achieved two-stars in eight categories assessed, but was awarded three stars for its food outlets and other facilities.
The running of the airport, owned by Luton Council, is due to be taken over by a consortium led by Spanish operator Aena in a £433m deal.
In a statement, an airport spokesman said: "We have taken a number of steps to improve the customer service at London Luton Airport over the past year, which would not be reflected in the research."
It said new stores and restaurants had recently opened and that it was awaiting a decision on its planning application to develop the airport.
If approved, the size of its terminal would double and the number of security lanes would increase to reduce waiting times,